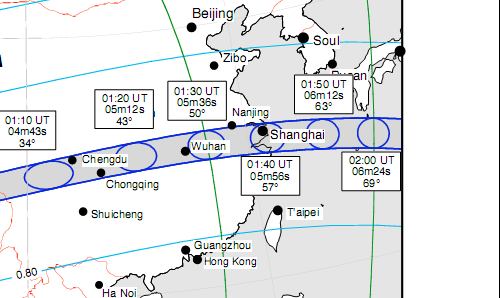 A friend just e-mailed me asking about my plans for the eclipse. Although the article in Shanghai Talk said I'd be at the Yangshan Deep Water Harbor (and I still think that's the ideal viewing place), I'm changing my plans to just stick around home and be on time to my Masters class that afternoon. The most common question I get is, can we go up to the observatory? The answer is that you could, but the fact is that the eclipse will be just as impressive with a small scope and the naked eye (and that the observatory computer is acting up and I don't know if it will be in working order by then).
I'll be back behind the elementary school from ~8am-10am with a telescope, camera, binoculars, and hopefully a pinhole setup. I ordered some eclipse glasses and filters for the telescope that should be arriving today. Maybe I'll send out an e-mail about that…
So if you want to join me out here in Zhangjiang, keep your ears open for more details. I'll post any info on the weblog too. Eclipse is next Wednesday!