Last Saturday I was a Shanghai subway volunteer.
For a few years now I've been a 超级潜水员, a super-lurker, as somebody recently described me, on Metrofans, a Shanghai-based web forum for subway system enthusiasts (compare: 117 posts on Metrofans since 2006, and 287 posts on Zhangjiang BBS in less than 2 years). A couple years ago I attended an outing organized by the BBS to celebrate the opening of Line 6, had a good time and met some cool people. Lately I've been thinking about practicing my Chinese and getting out of the house a bit more, so I'd been looking for a chance to join another activity. It just happened that on a night I was thinking about this sign-ups for last week's biweekly volunteer activity were opened. After a quick post and private message to the organizer, I was added to the list and noted the time and place on my calendar: People's Square main hall Expo countdown at 2:45.
Sure enough, by 2:30 a group of young people had formed and I introduced myself to the organizer, who goes by 周瑜的地铁 on the forums. A couple people recognized me from the last time, but most faces were new to me. The volunteers tended to be male (there were 2 girls out of 20-something total), college students or fresh graduates, and very nerdy. There was also a sociology student from ECNU who is carrying out research on this kind of community who I chatted with for a bit.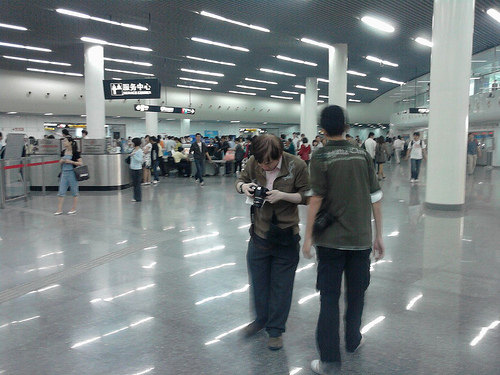 Volunteer vests were handed out and we were directed toward the light blue line.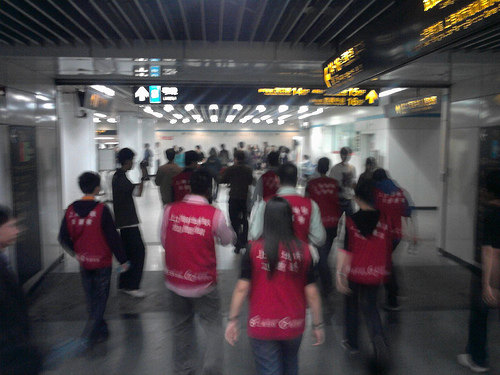 We dropped our stuff off in the Line 8 control room back room which, by the way, is full of Buddhist paraphernalia: calendars, altars, statues…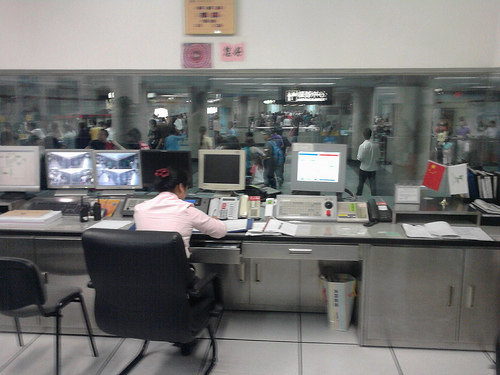 And then the real work began.
By design, first-timers are assigned to stations with more experienced volunteers, so I was at a larger set of turnstiles with two other forum moderators who had volunteered before. Other volunteers helped passengers buying tickets at the ticketing machines, and some were assigned to wander the station and answer questions. Interesting things about manning the 'stiles:
The volume of people exiting the station can be high, so the key is to anticipate who will need help inserting their ticket or dealing with ticket trouble. A couple criteria: young, urban people are generally OK; people with public transportation charge cards are generally OK.
Common card trouble includes: not knowing where to stick the ticket, trying to swipe a single journey ticket, having a ticket rejected for not inserting it properly, having a ticket rejected for not having the right fare or being demagnetized.
Most common question from people asking for directions: "Where is/which way to People's Square?"
There are police patrolling the People's Square station on Segways. They come in pairs.
Being a white person volunteering, it was amusing that locals and urban people tended to go to my partners for directions or questions, while
and rural people did not discriminate, expecting me to be able to speak Chinese as naturally as if I was a local. Also, being white and smiling at people as they exit has a tendency to make them forget to take swipe their card and run into a still-engaged turnstile.
A reporter from the 青年报 stopped to interview us.
Things you may have wondered about: it doesn't matter if you insert your ticket upside-down or rightside-up; and the turnstiles are smart enough to count N swipes and tickets, and then let N people go through. Still, don't tailgate the person in front of you because they could miss and then would exit on your swipe!
The sketch I made of the People's Square subway station and the location of its exits came in very handy. Most people figure out which line they need to take, but a lot of people need directions about which exit will take them to their final destination.
Obviously I didn't want to take any pictures on the job, but here's an example of another volunteer who was still going as we walked back to the meeting point at the end of our two hour shift.
Here's a group photo taken before we said goodbye for the day:
Something cool is by the next day there was an active post on the forum where people reflected on their volunteer experiences and shared funny or moving stories that had happened to them that day. It was a fun way to vicariously live out other people's volunteer experiences.
If you're interested in doing something similar, I suggest that you sign up for Metrofans and spend a while learning about the community. Also, you must be 18 years old and it really helps if you can speak good Chinese.