Adam Minter just posted a photo and a question about a game he spotted being played in an older Shanghai neighborhood. Since my research turned up a real Shanghai connection I thought it'd be good to put it here and just share the link back.
Photo by Adam Minter.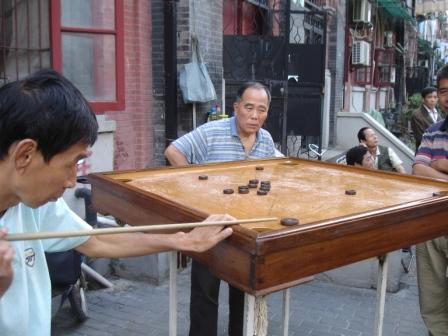 I replied on his post that I knew the game as Carrom from playing it as a kid in the US, but looking at his photo I suspected something deeper because of the workmanship that went into the board; the ones I'd played had always been flimsy things mounted on tripods (though I'd seen some more durable ones at a park near my grandparents' house in Buena Park, California). Wikipedia has this to say about the history of Carrom:
The origins of carrom are uncertain, although western sources suggest that the game is of Indian, Portugese, or Burmese origin.[1] Variations of the game played with a cue stick similar to those used in billiards-type games may have independently developed in several cases as a mixture of billiards and shuffleboard.

The game is very popular in India, and in Punjabi it is called fatta. Similar games are played throughout the world, and may or may not share common origins with carrom. In Denmark a similar game called bob is played with cues rather than fingers.[citation needed] There is a carrom-like game also played with cues in China. Games similar to carrom appear all over Asia, for example vindi vindi in Fiji and szhe szhe in Israel. Some variants make use of discarded objects instead of fashioned playing pieces; bottle caps are used for games similar to carrom in both Mexico and Java.[citation needed] Various North American games bear a resemblance to (and may be related to) carrom, including crokinole, pitchnut and pichenotte.
The Japanese Wikipedia page for Carrom yielded the Chinese 康乐棋, and googling with that phrase turned up 康乐球. That last variation combined with 上海 turns up a lot of links that suggest that Carrom is embedded in and particular to the local Shanghainese culture. Among the search results was the blog of one 露香园, who had this to say about the history of Carrom in Shanghai:
康乐球始于民国时期。康乐球借用桌球的一些用语,早些还有形似桌球六洞布局的康乐球。这两点都说明康乐球出现在桌球之后。据资料记载在印度殖民统治时期,驻印度的英军官发明了桌球,不久又从印度传到中国。是不是模仿桌球的康乐球也跟着传到了中国呢,还是中国人见了桌球而自制了康乐球呢,现在还没有可以肯定的说法。上海开埠较早,也是国内最早有康乐球的。有位老上海说早年老北站附近的康乐路上一家木器店老板制作了击打棋子状木子进洞取乐的木质方盘。当时参与的人都觉得很好玩。为了说话方便,就以路名来给这玩艺儿起了名。在康乐路上打球成了打康乐球。这可能就是康乐球名称的来源吧。在那个年代,桌球是贵族的游戏,而康乐球当然是平民的游戏了。
So it seems likely that the British brought it over to Shanghai from India, either in the form of Carrom or as its predecessor snooker (Wikipedia confirms the Indian origin of the latter). The "Kangle Rd" theory seems like it may hold water, but I'd be interested to know if the game has another name in Shanghainese that might sound closer to the Punjabi "fatta" mentioned by Wikipedia, or some other Indian variant. Another site talks about the rise in popularity of Carrom in Shanghai after the closure of snooker halls in the 1950s, roadside Carrom rentals as sources of income for the unemployed, and the organizing of neighborhood Carroom tournaments during the SARS quarantines.
康乐球在上世纪40年代传入上海,因其不登大雅之堂而未能传开。而到了50年代后,由于弹子房先后关闭,康乐球一度成了上海娱乐的主角,当时一只普通的康乐球盘约15元,仅相当于一个普通工人三分之一的月收入,高档的红木盘约60元。无业的居民或无所事事的家庭主妇花些钱购几只盘,就可沿街设摊了。当时租盘以"盘"(即一方胜局为一盘)算,小盘每"盘"一两分,大盘三四分,老板娘有两只盘,一天收入三五元是不成问题的。
The site also attributes the 康乐球 name to the English "cornerbool", a word Google says is used exclusively by Chinese manufacturers trying to sell Carrom equipment to English-speakers; so I'm not too sure about that one.
In any case, it appears that Carrom is indeed a Shanghai institution. SMG's Sports TV channel did a short report on it, interviewing a Mr Li who credits it with keeping him healthy and improving his sight to the point where he stopped wearing glasses. The report does note that the average Carrom player is 50 years old, so this is likely an institution in decline. Which means that now is a better time than any to order yourself a custom-built Carrom/康乐球 board, only RMB 1200 and made in Shanghai.