So 李宇春 has a music video out now that's getting pretty heavy play on Shanghai's local music television station, a song called "tmd (我爱你)". When I realized that she was singing "t-m-d", I started watching the subtitles* to figure out what this stood for. I asked Jodi to confirm that it was 甜蜜的, a phrase appearing later in the song, and she said:
"The first time I saw this video, I mistakenly thought it was 他妈的. But yeah, it's 甜蜜的."
(Listen for yourself: search for 李宇春 tmd on Baudi MP3 search.)
(And then listen to the splash hit at this year's New Year Gala on CCTV from Tibetan group 布仁巴雅尔, a song called 吉祥三宝: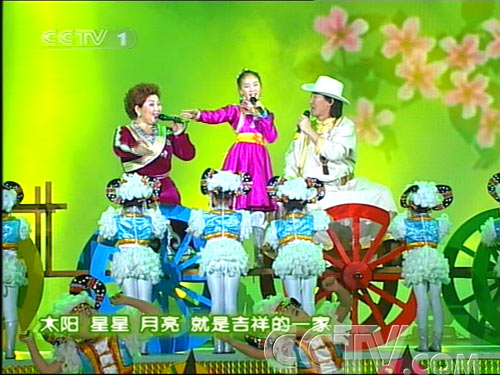 .)
* All music videos in China have subtitles, so kids can learn them and then order them when they go karaoke-ing. This follows the Japanese model, where artists actually get paid royalties when their songs get played in karaoke parlors.